Neighborhood Watch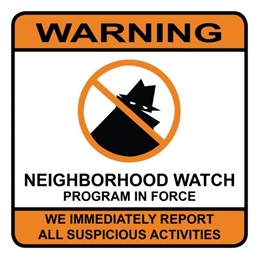 Crime prevention is a personal and community responsibility. We strongly encourage our community members to work together, in partnership with the Fredericktown Police Department, to keep our community safe and resistant to criminal activity. The Police cannot be everywhere at all times, so we rely on our community members to assist in reporting suspicious activity in a timely manner, and assist in being a good witness when the need arises. Please join us at one of our monthly neighborhood watch meetings to learn how you can help make a difference. These meetings are held on the second Tuesday of February, March, May, June, August, September, November, and December at 6:30pm at the Fredericktown Police Department. We also hold a quarterly meeting with a potluck meal available on the third Saturday of January, April, July, and October at 11:00am at the Fredericktown Local Schools High School Commons area. Please join us at one of these meeting to learn more about how you can have an impact on the crime in your neighborhood. If you witness something that you feel needs an immediate response by a police officer, the fastest way to reach us is by dialing 911. However, if you have concerns in your neighborhood that do not require an immediate response, we can be reached in any of the following ways:
To have an officer dispatched at any time, call 740-694-9222, press option #1
To leave a message on our crime tip line, call 740-694-9222, press option #8
To email a crime tip or information, email: tmyers@fredericktownpolice.com
We look forward to speaking with you about any concerns that you may have, as the citizens of Fredericktown are a vital piece of the crime prevention puzzle. Below are some resources to assist you in making your home and community a safer place:
---
Home and Business Security Assessment A Home and Business Security Assessment completed by the Fredericktown Police Department is designed to help homeowners, business owners, operators and staff to assess the overall security of their home and business. It covers potential areas of vulnerability, and provides suggestions for adapting your security to reduce the risk of crime and lessen liability. The security assessment can be tailored to fit the needs of your home or particular business and will be conducted by an Officer who is certified by the Ohio Crime Prevention Association as a Crime Prevention Specialist. Below is just a glimpse of the items that can be reviewed and discussed at your home or facility. The success and longevity of your business is vital to the growth and continued development of the Fredericktown area and we are eager to be a strategic partner in your success. Contact us today to inquire about a free of charge security assessment for your home or business.
Exterior Spaces
Interior Spaces
Building Access
Property and Equipment
General Security Systems
Sensor and Alarm Systems
Cash Management
Bank Deposits
Opening and Closing of Facility
Vendors and Contractors
Employee Training
Guest Security
Emergency Procedures